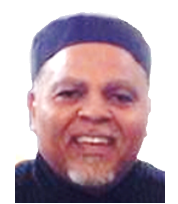 Imam W. Deen Mohammed
Knowledge Body & School of Thinking
Component
Mubaashir Uqdah accepted Al-Islam at Masjidullah in Plainfield New Jersey in 1977 under the leadership of Imam W. Deen Mohammed. From the moment he became a Muslim he has been an avid student of Al-Islam as expressed in the commentary of Imam W. Deen Mohammed and he has been an active worker in the community. He has a Bachelor of Science degree in Business Systems and Information Technology from the University of Phoenix, has worked professionally as a Senior Technical Writer for Fortune 100 companies, and worked in his own company as a Web Designer and Builder, a Book Publisher, and as a Real Estate Investor. He is married to Rita FurQaan Uqdah, and has three children.
CURRENT ACTIVITIES
Founder and Administrator of the IWDM Preservation Project.
Founder and Administrator of the IWDM Study Library (www.iwdmstudylibrary.com).
Special Assistant to the Conveners of Imams associated with Imam W. Deen Mohammed.
Assisting the Conveners of Imams with developing a course for learning the Knowledge Body of Imam Mohammed.
Webmaster of the IWDM Community Website (www.iwdmcommunity.com) on behalf of the Conveners of Imams.
Author of books (8) on the Language and Logic of IWDM. (www.uqdah.com)
Referenced as a Dr. of his Philosophy by IWDM, who publicly stated that Mubaashir Uqdah's writings are required reading for his students.
Advisor and counselor to many Muslims seeking advice and guidance.
Owner of Uqdah Enterprises LLC, which provides book publishing and website development services.
PAST ACTIVITIES
Northeast Section Convener of the Imams Associated with the Community of IWDM (2012-2015).
Founder and Coordinator of the NJ Muslim E-mail Network.
Founder and coordinator of the Higher Voice Dawah Movement.
Co-founder of UMMRAH, United Muslim Musicians and Recording Artists.
Website designer for numerous Muslim businesses and Masjids.
Editor and Publisher of numerous books by Muslims in IWDM Community.
Coordinator of Unified National Curriculum project for the Consortium of Clara Muhammad Schools.
Convener of the New Jersey Associates for Community Planning (ACP).
Special Assistant to the NJ Council of Imams.
Convener of the NJ Monitoring Team.
Chairperson of local CRAID committee.